About CSS
Q&A with CSS Leadership: CEO Bob Friedenberg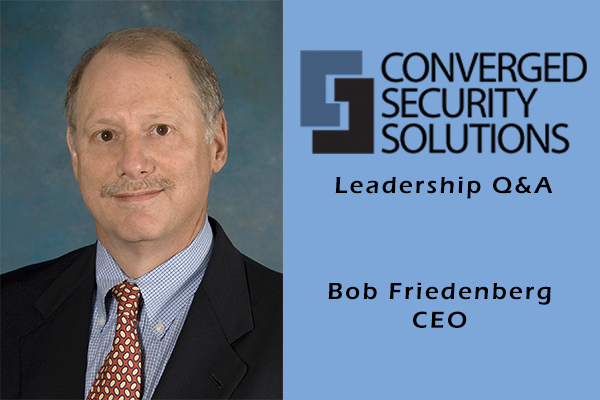 The marketing team at CSS caught up with CEO Bob Friedenberg to ask him his thoughts on all things converged security and the new company he worked to launch just a few months ago. He talks about the growing intersection of cyber and physical security and what he feels really differentiates CSS in the growing converged security space. Read the edited Q & A below.
What brought you into the converged security space and why is it significant today?
Converged security really began with building access control including chip readers. There is a link between your identity, the card, and access on your computer. In 2008, I was a part of founding another company that blended cyber and physical security and went to market as a converged company.
Over the years since the company was formed, the Internet of Things (IoT) has exploded. Cameras, access controls, and medical devices are taking over the networks. It is hard to disentangle the two – cyber and physical. I have difficulty thinking about non-converged security these days. You have all these physical devices with risks, which now put networks at risk.
If you have precious few dollars to spend, how do you demonstrate to a C-level executive that you have come up with the best protection and the maximum reduction in their risk for those dollars?
How did you decide on which companies to include in the CSS organization?
I had been introduced to Gunvir Baveja, the founder of eVigilant, through a mentor protégé relationship with my former company. We had talked about doing something a little similar to that company. eVigilant had a very good reputation in doing access control and surveillance systems. Gunvir was also a long time believer in converged security and had an interest in of his own. Not to mention, all the people in eVigilant have a terrific, high-energy, can-do attitude.
When I went to find the cyber component, I discovered Evolver. I was introduced to Bill Sabo, CEO, and Mike O'Kane, founder of Evolver. We all started talking to see if this idea made sense. I found the concept of risk quantification compelling with Evolver. It was a differentiator. We were also very interested in remote managed security services offered from Evolver's Security Operations Center. In addition to this, the culture, quality, and high levels of customer satisfaction at Evolver were extremely impressive.
In the early days, I got the leadership of both companies together. This was an early chemistry test to see if we wanted to work together on a common mission. At the same time, a team of us, including our Chairman, John Regazzi, worked on further developing and clarifying the vision for the company and defining its go-to-market messaging while seeking investors. We focused on risk quantification on the front end and remote security management on the back end. The amount of time from when we had the idea to when we began operations as CSS was two and a half years – not for faint of heart.
What industries can currently benefit from a converged security approach?
The short answer is everyone should. The big answer relates to who should adopt this first. Procurement often tends to be in silos. Even if everyone agrees, the need to break those silos will be led by specific sectors. I believe commercial will adopt first, especially healthcare and financial services.There are very compelling reasons why the C-Suite and the Board has to measure and demonstrate reduction in risk, so they cannot offload security to CISOs or Physical Security Managers.
For the public sector, if you are in the intelligence community or DOD, the priorities of life, safety, and national security will perhaps dominate your thinking more than the cost-effectiveness. In the federal, civilian, or state & local sectors, ROI (return on investment) can be more compelling. You don't have the funds to do everything, so what can have the biggest impact?
What we want to do is provide an answer to the question, "If you have precious few dollars to spend, how do you demonstrate to a C-level executive that you have come up with the best protection and the maximum reduction in their risk for those dollars?"
What is particularly interesting or unique about CSS in this space?
The perspective of return on investment. Not everyone is going to be as driven by remote management services. Not everyone believes in converged security. However, one thing customers will take away – CSS is thinking about this as a business based solution. This is a business problem – an organization's continuity of operations problem – not a technology problem.
---
Converged Security Solutions provides our clients with measurable value by better quantifying, reducing, and managing security risk through assessments, remediation, and monitoring of IT and critical infrastructure. Our services span cyber and physical security to address the growing complexities in a world with internet enabled devices. Contact us to learn how we can help your organization.